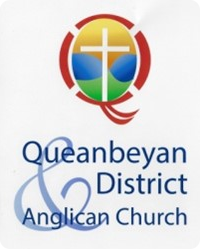 Christ Church, Queanbeyan, is located at 39 Rutledge Street and is a short walk from the Queanbeyan CBD. The site consists of 4 heritage buildings which are listed with NSW hertiage and Queanbeyan/Palerang Regional Council. These are
Christ Church - the church
Christ Church Rectory
the stables
(the former) Christ Church School.
These buildings are located on approximately 1 hectare (2 acres) of land.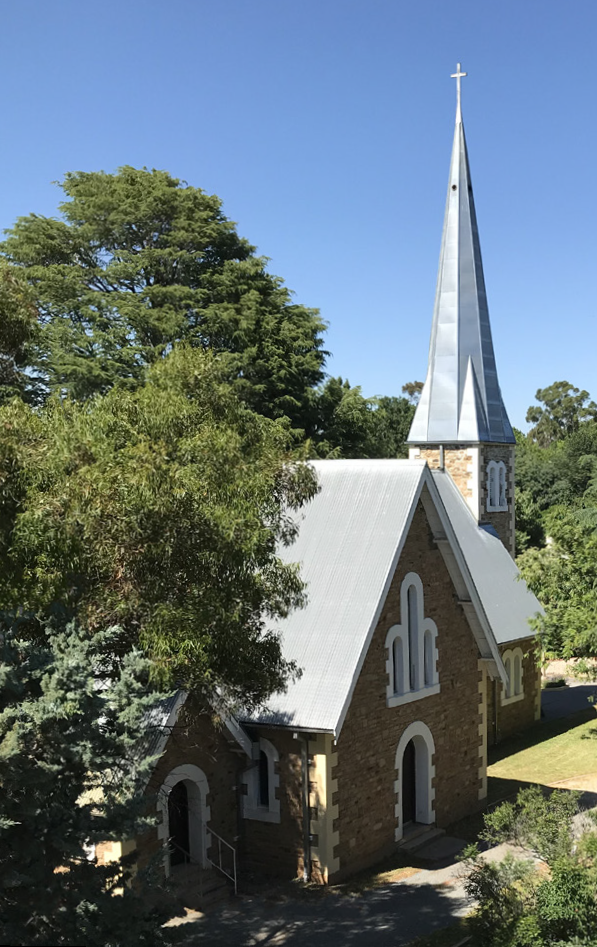 Christ Church - the church.

The original Christ Church was built on the site in 1842-1844 and was a small rubblestone structure.

The current Christ Church was designed by Alberto Soares and was built in 1859-1860. This church was opened on 7 October 1860 but lacked the current steeple.

The 53.4 meter steeple was completed in August 1861 and the church was consecrated by the Bishop of Sydney, Frederick Barker, on 30 October 1861.
Christ Church Rectory

The Rectory was built in the early 1870's to house the Rector of the Parish.

It was extended in late 1923.
The Stables

The stables are one of Queanbeyan's oldest buildings and were built in the 1840's for the first Rector of the Parish - Reverend Smith.
Christ Church School

The school was established in 1843, however the school building was not built until 1850. This construction is the centre part of the existing building.

The western part of the building was added in 1864-1865.

The eastern part was added in the late 1990's using heritage bricks.

The school house now serves as the Parish hall and Parish office.
Restoration and Maintenance

Restoring and maintaining these four historic buildings, and the grounds, is a high priority for the Parish so that this heritage can be preserved for future generations.

The Christ Church site is currently undergoing a multi-phased project of restoration and maintenance. This project includes works to the church, Rectory, stables and school building.

The first phase involved restoration of the Christ Church Steeple and Rectory, and these works were completed around the middle of 2021.
Restoration Funding

Funding of the restoration of the Christ Church site is currently provided by donations from parishioners and various heritage grants. This funding is not sufficient to ensure the full restoration of the site.

Tax deductible donations of over $2 can be made to the Christ Restoration Fund. More information on this can be found on the Restoration Appeal page,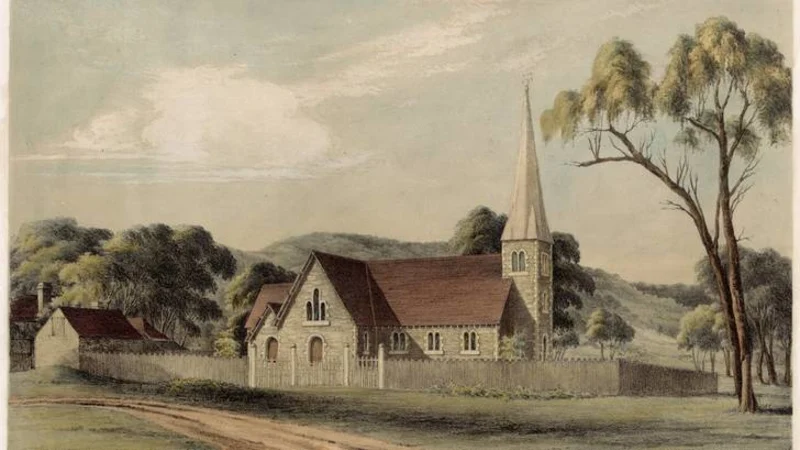 Reverend Alberto Dias Soares' water colour painting of the church he co-designed.
Image: National Library of Australia