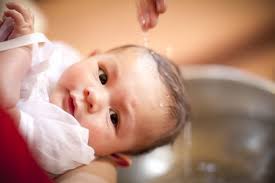 Baptism - Part of the Sacred Journey
A Time to Rejoice
All life comes from God and the life of a child is a special privilege for parents and their family. Thank you for seeking to make an enquiry about baptism in our parish, that we may share your joy on this important occasion as we conduct this sacred ritual and as you celebrate with family and friends.

Baptism is a special event, so it is important that we prepare well.

It is necessary that we get some information from you so that we can help you to celebrate this important day in your child's life.

The inquiry form for the Baptism of a child is available here.

If you are an adult seeking Baptism, that form is available here.

Baptisms are normally performed on the 2nd and 4th Sunday of the month, and are usually performed individually outside regular service times.

Please download the appropriate form, completed it and either scan or photograph it, and return it by email. We will acknowledge receipt of the completed form and email you a booklet about Baptism.

Once we have received the completed and signed form from you, a Priest or Deacon will contact you so that we can visit you, and the Godparents if possible, to think about the purpose and implications of baptism, and complete the preparation arrangements for the baptism.