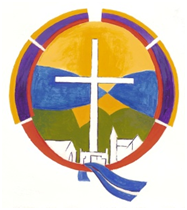 Old Testament - Sixth Sunday in Lent/Palm Sunday
Isaiah 50.4-9a

4 The Lord God has given me
     the tongue of a teacher,
that I may know how to sustain
     the weary with a word.
Morning by morning he wakens—
     wakens my ear
     to listen as those who are taught.
5 The Lord God has opened my ear,
     and I was not rebellious,
     I did not turn backwards.
6 I gave my back to those who struck me,
     and my cheeks to those who pulled out the beard;
I did not hide my face
     from insult and spitting.
7 The Lord God helps me;
     therefore I have not been disgraced;
therefore I have set my face like flint,
     and I know that I shall not be put to shame;
8 he who vindicates me is near.
Who will contend with me?
     Let us stand up together.
Who are my adversaries?
     Let them confront me.
9 It is the Lord God who helps me;
     who will declare me guilty?
All of them will wear out like a garment;
     the moth will eat them up.