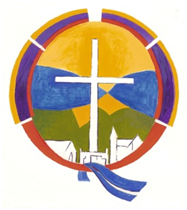 Psalm - Seventh Sunday after Epiphany
Psalm 37.1-11, 40-41
Do not vie with the wicked:
or envy those that do wrong;
For they will soon wither like the grass:
and fade away like the green leaf.
Trust in the Lord and do good:
and you shall dwell in the land
and feed in safe pastures.
Let the Lord be your delight:
and he will grant you your heart's desire.
Commit your way to the Lord:
trust him, and he will act.
He will make your righteousness
shine as clear as the light:
and your innocence as the noonday.
Be still before the Lord, and wait patiently for him:
do not be vexed when someone prospers,
when they put their evil purposes to work.
Let go of anger and abandon wrath:
let not envy move you to do evil.
For the wicked shall be cut down:
but those who wait for the Lord shall possess the land.
In a little while the ungodly shall be no more:
you will look for them in their place,
but they will not be found.
But the meek shall possess the land:
and enjoy the abundance of peace.
Deliverance for the righteous shall come from the Lord:
he is their strength in time of trouble.
The Lord will help them and deliver them:
he will save them from the ungodly and deliver them,
because they come to him for refuge.