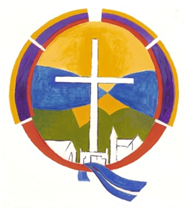 Psalm - Second Sunday in Lent
Psalm 27

The Lord is my light and my salvation;
whom then shall I fear?:
the Lord is the stronghold of my life;
of whom shall I be afraid?
When the wicked, even my enemies and my foes,
come upon me to devour me:
they shall stumble and fall.
If an army encamp against me, my heart shall not be afraid:
and if war should rise against me, yet will I trust.
One thing I have asked from the Lord, which I will require:
that I may dwell in the house of the Lord
all the days of my life,
To see the fair beauty of the Lord:
and to seek his will in his temple.
For he will hide me under his shelter in the day of trouble:
and conceal me in the shadow of his tent,
and set me high upon a rock.
And now he will lift up my head:
above my enemies round about me.
And I will offer sacrifices in his sanctuary with exultation:
I will sing, I will sing praises to the Lord.
O Lord, hear my voice when I cry:
have mercy upon me and answer me.
My heart has said of you, 'Seek his face':
your face, Lord, I will seek.
Do not hide your face from me:
or thrust your servant aside in displeasure;
For you have been my helper:
do not cast me away or forsake me,
O God of my salvation.
Though my father and my mother forsake me:
the Lord will take me up.
Teach me your way, O Lord:
and lead me in an even path,
for they lie in wait for me.
Do not give me over to the will of my enemies:
for false witnesses have risen against me,
and those who breathe out violence.
But I believe that I shall surely see the goodness of the Lord:
in the land of the living.
O wait for the Lord;
stand firm and he will strengthen your heart:
and wait, I say, for the Lord.